FirstOntario Centre Parking
There is one parking garage directly connected to the FirstOntario Centre. There are also lots of alternative parking options available within 10 minutes walk of the venue: please find a list below. Visitors to the FirstOntario Centre are asked to aim to arrive half an hour or more in advance of their game, to allow time for traffic and delays, finding parking, travel to the venue, bag and coat search, visits to the restroom, purchase of food and drink, and time to find your seats before the game begins.
Parking will be busy on game days so advance booking is strongly recommended.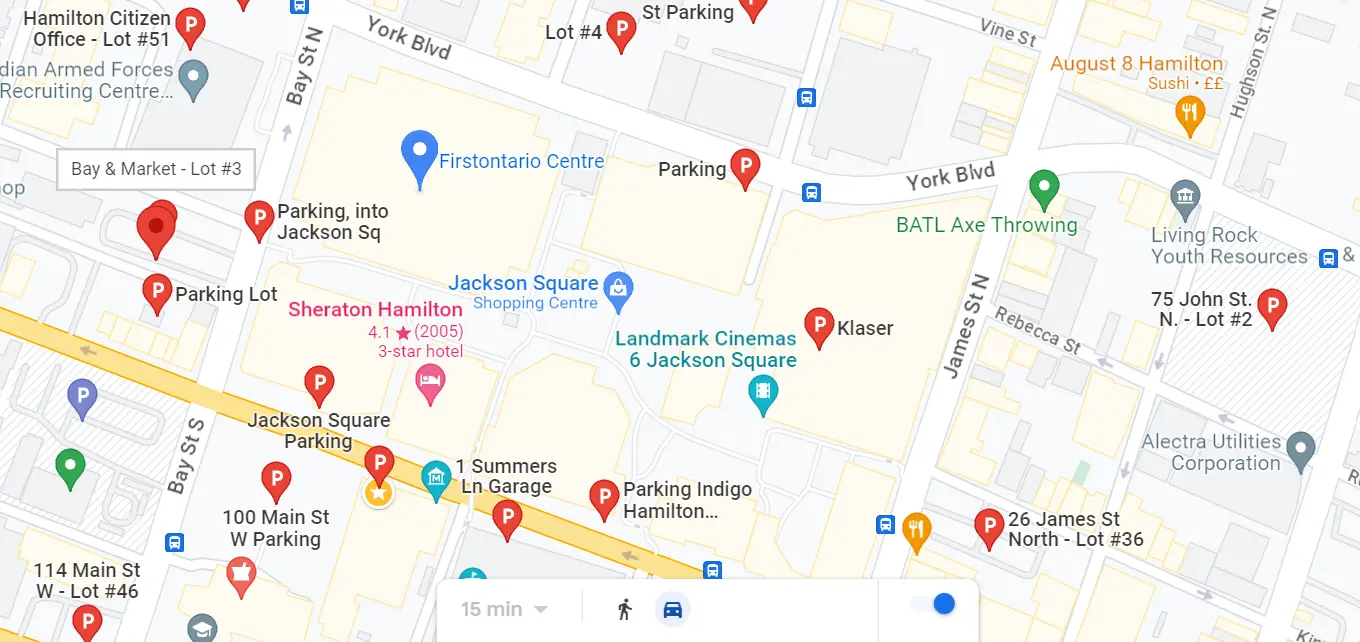 FIRSTONATRIO CENTER PARKING
The FirstOntario Center is in the heart of downtown Hamilton, surrounded by both traditional and newer attractions the city has to offer. We understand that travelling to an event you're dead excited on experiencing, whether it be to watch The Hamilton Bulldogs win a game, or to be serenaded by one of your favourite singers in the flesh or witness the magic of Disney on Ice. It is one of the more stressful aspects of any trip – particularly when it comes to parking!
We have compiled a list of parking facilities near the venue to give you some info to help you decide on where to park your wheels, so your trip is streamline – we want you to focus on enjoying the winning goal of your team rather than stressing about where you will park.
FIRSTONTARIO CENTER GARAGE
Distance: On-site
Street Location: York Boulevard
Spaces get booked up very quickly for the on-site garage, we recommend securing your parking space ASAP.
BAY & MARKET, LOT #3
Distance: 150 meters, about a 2-minute walk from the venue
Street Location: Bay Street, North
One of the closest parking sites to the venue and is open 24 hours, so you can access your car whatever time of the day (or night) it is.
CONVENTION CENTER PARKING
Distance: 0.1 miles, about a 4-minute walk away from the arena
Street Location: Summers Lane
In close proximity to the venue and with wheelchair accessible parking and entrance, this parking option gives ease and assurance to visitors.
69 HUGHSON ST N PARKING
Distance: 0.27 miles, about a 6-minute walk away.
Street Location: Hughson Street
A little further away from the site but still in the heart of downtown.
MUNICIPAL PARKING CAR PARK 36
Distance: 0.46 miles, about a 10-minute walk away
Street Location: Mulberry Street
Have a stroll through downtown before attending your event and pop into a few of the stores along the way, or after!
A FEW INSIDE TIPS
Book your parking slots as soon as possible to ensure you have the location you need.
Keep proof of your parking purchase until after your event trip, on the off chance that something goes awry with your parking, and you require it.
Give yourself plenty of time to park up and get to the venue, you don't want to miss the start of the game or show! We recommend an hour.